Your car key battery replacement advisor
---
At one time or another, every driver finds themselves in a situation where the car key stops functioning. You can try shaking the key, tapping it against your hand, or walking around your car trying to see if the key fob works. This might help only temporarily. In most cases, the reason why your key isn't working is a because of a discharged battery.
This is a common problem for all drivers, which is why it's good to know how to resolve issues like that. Keep reading to learn more about batteries and how to replace them.
What happens if my car key battery dies
---
Having car key battery malfunction issues is something we understand, we realize how distressful and unpredictable it can be. If you are already late for work or other obligations, a non-functioning key can make your day even more stressful. Fortunately, there's no reason to panic because the battery for the car key is not difficult to replace. Also, most smart keys are equipped with an emergency blade. It is a mechanical key placed inside the fob. It's used to open the driver's side door in an emergency. However, if you are unsure about replacing it yourself or don't have extra batteries – then the best idea is to call our
mobile locksmith service
, and we will be glad to fix the problem for you.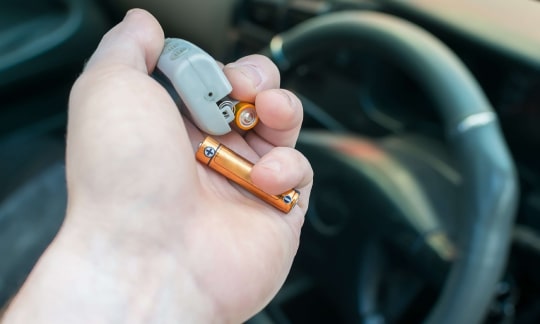 We know that a quick response is essential in stressful situations like this, which is why we use hi-tech, state-of-the-art mobile service vans in order to reach you as quickly as possible.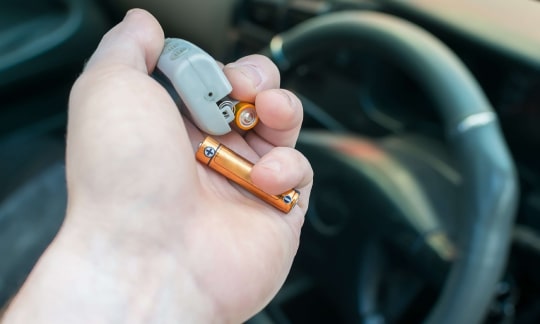 How do I replace the battery in my car key
---
As we told you before, car key battery replacement is not a complicated process. First of all, you have to determine the type of car key you're working with. However, the process of replacing the battery is pretty similar for all of them.
If you're using the keyless remote for your car, first, you'll have to find a notch on it. You'll have to open it. For that purpose, use a knife or something flat. You have to attach it to the gap and open a fob. Use caution and do it carefully. The plastic tabs that hold the fob together could break easily. If you accidentally break them, you'll need to ask a car key locksmith to fix your fob, or you'll have to buy a new one. When you open the fob, it's time to take out the old battery and replace it with the new one. Pay attention to how the old battery was installed. It's essential to install the new battery the same way, or it won't work. After you're done, put the parts of your key back together and check if it's working properly.
The mechanism for flip-style remote keys is similar. The difference is only in installed keys. You have to pull a key out and then perform the same actions.
Some cars use a remote head key. Here you won't find a notch. Everything is fixed to the bolt cube, so to open it, you'll need a screwdriver. After you open it, do everything as per the above directions.
How long do car key batteries last
---
If you bought your first car, there's no reason to worry about having problems with your key fob. Most key batteries last up to three or four years with regular use. After that, you might just need to change the battery and keep using your key fob. However, car key problems are not always caused by discharged batteries. So, if you have trouble with your keys regularly, it's good to find a reliable locksmith company. Possibly your key could have some kind of a bug, and you might not be able to fix it yourself.
Sure Lock & Key
is ready to help you with any locksmith issues you might have.
After all, it's what we do and we love what we do.
What kind of Batteries do Car Keys take
---
Most companies use the same batteries for car keys: CR2032 and CR2025 3-Volt. Some companies prefer to use specific types. You can find the exact type in the owner's manual. You can always check your current key fob if the owner's manual is not handy.
Before replacing the battery, you probably want to know how much it costs. A standard car key battery usually costs about $5. The price may vary based on the quantity and where you purchase it.
Summary
---
Changing a battery for the key fob is not a difficult task. You only need to know your battery type and remember to be careful during the process. If you're not absolutely sure that you can do it properly, you should call a professional locksmith company to change a battery or fix an old fob. Sure Lock & Key is always here for you, and we're ready to help you anytime or place, day or night.