What kind of locks must emergency exit doors have
---
Emergency doors are made to help people escape danger in case of an emergency. If there is a fire, flooding, or a gas leak, people need to be able to get out of the building quickly. A proper exterior door lock is essential because this mechanism allows you to exit through the door quickly. But which lock is the best for the emergency exit door? Should it be a classic mechanical lock or an innovative exterior digital door lock? Are there any details you need to pay attention to during the installation process? You can find information on the internet, but you never know if it's accurate. Sure Lock & Key has 35 years of experience in the locksmith and security industry and in this article, we will gladly provide you with all the answers to these questions. Are you ready to find out more? Then please keep reading!
What type of door lock is the most secure
---
There's no right or wrong answer here. All locks are secure as the manufacturer intended. Each type is suited for different purposes.
Classic mechanical locks are considered trustworthy by many people as they're time-tested. For example, deadbolt locks are said to be the most secure ones, as they're extremely hard to break. However, this type of lock has some drawbacks. It's hard to open in case of emergency, and also, it doesn't allow you to track who enters your facility. For that purpose, a smart lock is a better choice, as it allows the owner to track all the activity. Even if an intruder tries to get in, the system will send you a notification. The only thing you need to do is to update the firmware on time. Sometimes people combine smart locks and mechanical locks to increase security levels.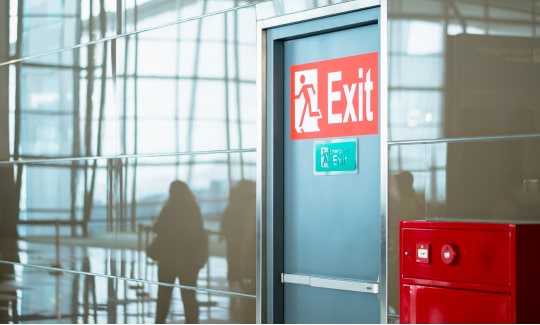 When deciding on the type of emergency exit door locks, ensure that they're easily accessible. You wouldn't want anyone to get stuck inside the building in case of fire because they simply can't open the lock.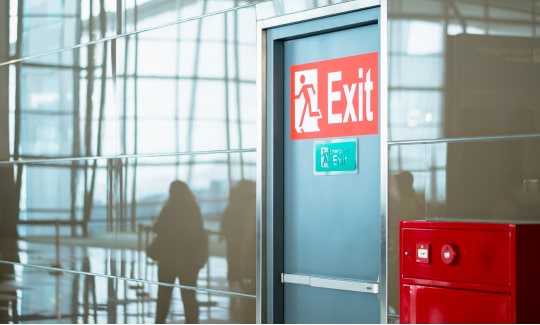 Need more information?
Call us to get a free quote
Can someone break into a deadbolt lock
---
A deadbolt door lock could become an insurmountable obstacle for burglars. It is made out of different metals, and it can withstand an enormous amount of pressure. This lock has a Grade 1 level of security. Even if someone tries to crush it with a hammer, the chance of breaking it is very small. However, as we already mentioned, these locks are not suitable for emergency doors, as it might be hard to unlock them fast.
So, you need to find other ways to secure your emergency exit door because intruders usually pay attention to them, as they consider them an easy entryway into a facility. Because these doors are equipped with well-functioning locks to let people exit without problems, they can also make it easier to get in from the outside. So, to
protect your business from theft
, you may take some additional measures. Think about installing security cameras or a smart lock. You can connect them to your phone, so if you desire, you'll receive notifications every time someone tries to enter the building.
What type of lock should be used on exterior doors
---
Most people choose an exterior door lock set with a deadbolt as they consider it the safest option. We agree that this type of lock provides a high level of protection, especially if you choose a double-cylinder one. Also, digital locks are gaining popularity these days. Many people choose them for their home or office. They're really convenient, as you don't need a key to open them. Also, if you install a smart digital lock, you can monitor who's entering the building, and you can limit access. The only problem with this type of lock is that some of them won't work if the power is off.
So, if you choose this type of lock for your emergency door, ensure that it doesn't depend solely on power. If it's a lock that runs on batteries, always check if they're charged. Also, make sure that it is updated on time. Otherwise, it won't work properly. When it comes to emergency exit doors, it's essential that the lock be fully functional at all times
Need more information?
Call us to get a free quote
Do fire doors need fire-rated locks
---
When you're choosing doors for your facility, it's good to install fireproof ones. They'll help you protect your valuables in case of fire. The question is – "Do you need fire-rated door locks as well?" Our answer is simple – "Yes." Make sure you choose the lock that suits your door. Otherwise, it may not function. By far, the best option is to install smart locks, as they provide keyless access, which is essential in an emergency. Some of them can be connected to your fire alarm system, so in case of fire, they'll be unlocked for a certain amount of time. This allows people to leave the building even if they don't have an access card. To install that kind of lock, you may need some help from a
commercial locksmith
. This person has all the required skills and knowledge to provide you with the best locksmith services.
Summing up
---
Choosing between all the available security options might be quite complicated. Most people don't have enough required knowledge to decide which lock or which security system is the best for their needs. However, proper
security is important
. That's why it's crucial to find a professional who can help you protect your property and decide on the best safety measures. As a company with 35 years of experience and an excellent reputation, Sure Lock & Key is ready to help you. Have some questions about fire-rated door locks? Call us, and we'll gladly answer them. In fact, if you have any questions about door locks, call us. After all, it's our job and we love what we do.