Additional Security For Your Home Via Smart Devices
---
There's no limit to improvement, especially if it concerns your house safety. There always will be something you could add, change or upgrade. New security inventions surface every day. Naturally, following each invention and variations of them might be complicated and time consuming. That's why Sure Lock & Key put together this blog post for you. Inside you will find interesting and useful information concisely laid out to help you clarify security-related issues and hopefully provide some good answers. If not, remember that we're always a call away to assist you!
A Smart Door Lock
---
Smart Locks are becoming more and more popular. Using an app, you can lock and unlock your home from anywhere. Imagine you arrived at your destination and suddenly realized that you forgot to lock the door. Your day would be ruined. However, if you're an owner of a smart door lock, you don't need to return home to do it, you can just use the app. In a few seconds you resolved a problem that could have taken hours.
Another
benefit of smart locks
is that you can give your guests access to your home without physically opening the door or handing over a key and when they leave you can immediately change your access codes. For example, your guests arrived quicker than you. It would be rude to have them wait for you outside, especially if the weather is bad. Once again, you use your app and wahla. Your friends are waiting for you inside.
Even though these locks are technologically advanced, there still are some precautions. If your smart lock has an access code panel, you should try never to enter the code around people you don't know. However, if someone you don't trust accidentally figured out the code, it's not a big problem. You can change the unique code of your smart lock as often as you need to or set a time limit for codes. So it will change automatically. As the adage goes "it's as easy as pressing a button".
A Smart Doorbell With Camera
---
Owning a smart doorbell will give you peace of mind in always knowing who is at your front door. There are many other advantages. Many modern smart doorbells will send you an alert to your phone app in case you have visitors while you aren't home. Another benefit is that most of these devices take photos or videos automatically when someone pushes the button. A video doorbell may partially replace a
CCTV camera
. You may use it, at any time, to watch what is happening in front of your house as well.
Smart And Motion-Activated Lighting
---
When you install motion-activated lighting outside your house, the light will turn on as a reaction to some kind of movement. It can help to prevent your home from being broken into. You can also control smart light bulbs from an app in order to turn the light on and off whenever you desire. The system will also alert you about suspicious activity on your property.
You may also install smart light bulbs inside your home. If you see via the smart doorbell or camera that someone strange is near your house, you can turn on the smart light bulbs. Burglars will think that someone is home and likely go away.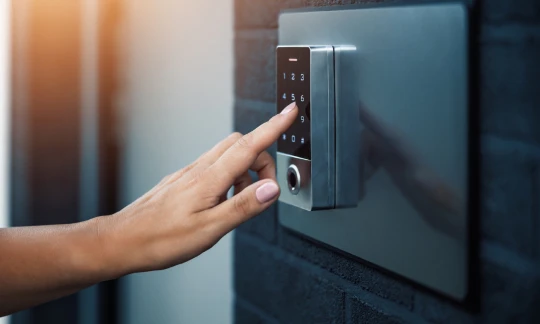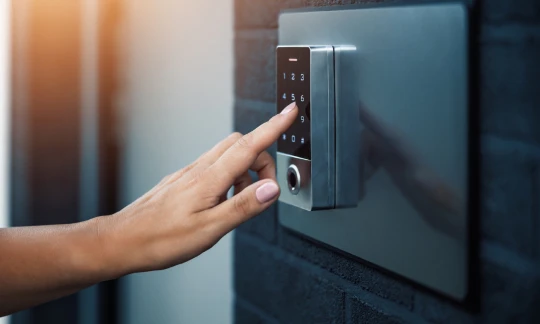 A Smart Camera System
---
Smart camera system installation may be a great way to improve your house safety. This system is connected to an app allowing you to see what is happening inside or outside your home. Most up-to-date systems use Wi-Fi networks to transmit the videos to the user's phone. In addition, the smart camera system may also be equipped with an audio monitoring system that allows you to listen to conversations. If you don't want to spoil your home interior or you rent the place, you may install a wireless camera. These devices interfere in the interior very slightly, and if you decide to change your living place, you can easily take them with you.
How To Protect Smart Devices
---
As smart home devices are becoming more popular these days, hack attacks are increasing. We prepared a few tips on protecting your smart devices and making them last longer. Let's check out what can be done.
Smart devices collect personal data. To protect yourself, learn what kind of data is collected, whether it will be shared with third parties, and how to protect it.
Choose local storage instead of the cloud.
Separate your home and guest networks. Use the guest network to set up your devices.
Use a password manager. It is an advanced tool that helps users securely store and manage their login credentials.
You can use VPN to eliminate the potential for hackers to break in and steal confidential information.
Don't forget to protect your mobile phone by setting up the password, as the app on your phone can control most of your home's smart devices. In case your phone is lost or stolen, no one will be able to use it.
Need more information?
Call us to get a free quote
Summing Up
---
Smart home devices remain something new and exciting but still a bit suspicious. However, nearly 83 million homes have smart home devices, and 69% of these users live in the U.S. They have slowly but surely won the hearts of people who are tired of being worried about whether they locked everything or not. The peace of mind you get using smart home devices is only the tip of the iceberg. Beneath, there are dozens of other functions you may like that exist today and others that are about to hit the market and still others in development. When it comes to Locksmith and Security advances we are in a very exciting time.