How To Choose The Best Safe For Home
---
Not so simple. Choosing a safe today is substantially different than it was anytime through history. It really is not just different, it's quite difficult. Why? Simply because the technology has changed and totally elongated how and what a safe can be used for. The whole format, options, design and placement strategies have made the answer to this question very difficult. However, Sure Lock & Key believes that a safe, today, is truly a magnificent item that will give you more peace of mind than ever before. We don't want the hard choice to stop people from getting one. That's why we have put together this short but comprehensive explanation about the different types of safe locks to help you choose a home safe. Let's take a look!
A Key Safe
---
If you're a traditionalist, you may like the idea of key lock safes. These safes are well-known and time-tested and there is no new information to learn to start using this safe except maybe that they come in many sizes and each has its own multi-purpose reason for hitting the market. However, there are a few things to know about each type and size. First of all, defeat the temptation to purchase a small safe. You will run out of space shortly if you want to store documents, cash, jewelry, and assets with sentimental value. A small safe is easier to hide but it is also quite easy to take, hide and then walk away with. Please, keep in mind that a safe looks bigger from the inside, than it actually is inside because thick walls eat a much larger amount of the space than you would assume. Moreover, if your safe is a built-in, wall safe for home, it will obviously be more secure than one that can be walked away with. A key safe box for a home could barely be considered a reliable place to store your assets.
We also recommend you look at
safe fire ratings
before purchasing one. The rating will tell you just how long the assets inside the safe will resist fire. These safes may be a good investment for offices and homes, especially if you plan to keep important documents there.
However, there are a few clouds on the horizon. Even though keys are considerably more durable than code locks, they still are losable and breakable. Also remember, something you use day in, day out will most likely wear down at some point. Moreover, keys need to be tracked to keep everything under control. If you're the type of person who always leaves your keys everywhere but not always in the safest of places, you might not need one more key to be worried about. However, it's never too late to develop a habit or a
system to carry your keys correctly
.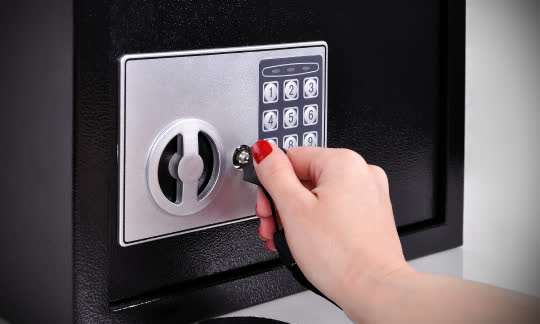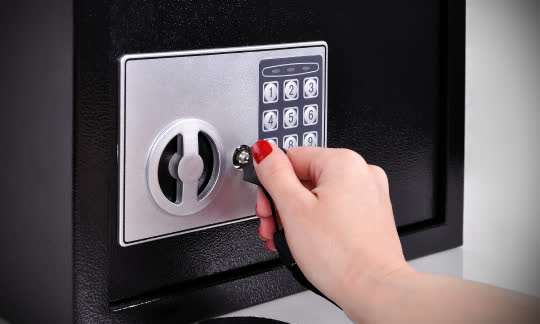 Electronic Locking Safes
---
Electronic devices win more and more hearts every day and safes with code locks are no different. Many people prefer this safe type because they can keep the key in a place to which no one, but you and whoever you permit to have access. With this system even if you forgot or lost track of who has access you never have to worry. You can just simply change the combination or just change permissions when you need to reduce the number of people who have access. An electronic lock also means that the safe can't be picked because there's no keyhole.
However, remembering the code may be complicated. People usually choose something that has a special meaning. Their or their loved ones' birth dates are easy to remember but also easy to be revealed. Don't make the thief's work easy. Create something really advanced. You may use a special app where you can store your passwords and codes securely if you're afraid that you might forget them.
People may think that code safes are created for different needs, but it's not true. They just have a greater and of course a more varied number of possibilities of functionality than key safes. Whether you need just money safe for home or a safe for your business needs, today, the options are much greater than they ever were before.
It's a good time to take advantage.
Need more information?
Call us to get a free quote
Summing Up
---
Choosing key locking or code locking safe mechanism is entirely up to you. However, we want to ask you one thing. Don't jump to a decision. Consider each of the pros and cons with regard to your specific needs. Let your decision be an educated one. You may even ask for third-party help. Sure Lock & Key is a coast-to-coast company and we are here for you 24/7, throughout the year. We are always glad to assist you. Use our more than three decades of experience in the Locksmith and Security industry to your favor. We offer you a wide range of
safe services
for residential and business needs.