What To Do If You Get Locked Out Of Your Office
---
Some situations are hard to anticipate, and we don't even think about them until we face them. For example, you might get stuck outside of your office without the ability to reenter. Time is money, and failure to open on time might cost you a great deal and can even lead to losing customers' trust or even worse, your bosses. Well, the truth is being locked out of your office is not the best way to start a busy day. In the vast majority of cases the office is more secure than the home, so it might not be easy to get inside. However, Sure Lock & Key has prepared five tips for you that might help in this situation. Keep reading!
Alternate passageway
---
If you're locked out of your office, it would probably happen at the main point of entry. Instead of focusing on the door, which serves as the primary means of access, look for other options. Being locked out of your office might be solved by simply moving to an adjacent room and using an adjacent door between rooms or by taking advantage of flaws in the physical security of your building. The other entrances can be located on the other side of the office. You need to be intuitive and try to find another entrance inorder to successfully get into the office. Don't get flustered. Take the initiative, with confidence because you can still find a way to re-enter without much stress. Let us give you some suggestions.
Ask for help
---
Call your colleague to see if they can open the office door and let you into the office. Let them know your current situation and if just opening the door doesn't work, don't be shy, ask for any ideas or solutions. The manager in the office or maintenance staff may have a key. You may go to them for help. If none of these suggestions works then continue reading. We may still have a solution.
Look for unlocked windows or doors
---
Of course, windows or back doors should not be open, but it may help you in case they just happen to be. If you or someone else forgot to close the windows or even the back door upon leaving, you may have a way out of this nightmare. You have a potential way into the office.
The easiest solution would be to go in through the back door. What a relief it would be to find that door unlocked! You may forgive yourself or your forgetful colleagues immediately! However, this is probably only wishful thinking. If anything, you might have a window open. If you carry a Swiss Army knife or something else sharp enough to cut through the mesh, you'll have to do that first. If not then try pushing the window back, if you can. If still not, then read on…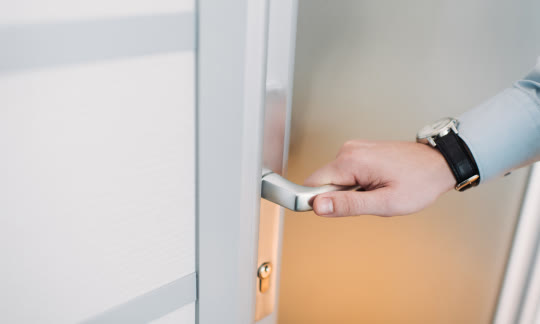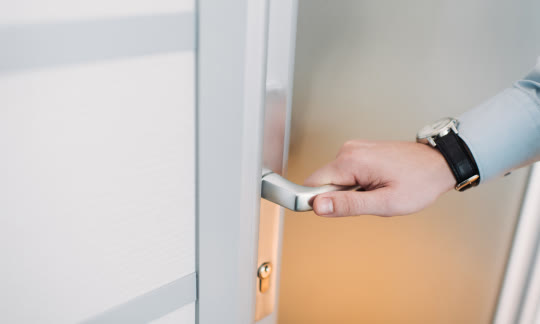 Need more information?
Call us to get a free quote
Spare keys
---
Your first impulse may be to panic. Instead, stop for a moment and rethink the question of whether you have a spare key somewhere. Often, we forget spare keys simply because we never use them, but you might have one lying around in your drawer or even packed away in your bag. Also, think about who else might have a spare key to your office. Maybe you have the phone number of a maintenance person, a previous employee or someone who manages security in your office. They may have a spare key that can get you in.
Commercial Locksmith
---
Before taking apart your doorknob or breaking down the door or window, call Sure Lock & Key. When you are locked out of your office, you're only one call away from a quick opened door. A
commercial locksmith
is trained to open the higher security locks used in business and office settings. Locksmiths will also be able to help with any other services you may need regarding the business lockout.
When you call us, here's what happens. Our dispatcher answers your call. It doesn't matter if it's 3 pm or 3 am –– we operate
24 hours a day
, 365 days a year. We understand that emergencies aren't limited to business hours. Once you share your location and explain the situation, we'll have one of our skilled locksmiths drive out to your location to help you get back in.
Locksmiths carry special tools that allow us to open up locked doors without keys in a way that keeps the integrity of your office door lock intact. Most doors can be opened in this way, meaning you won't need to replace your doorknob or lock after we've accomplished our goal of letting you back in. In unusual cases, we may need to drill to remove the lock or doorknob, and then replace either the cylinder or the entire lock. Luckily, this is rare. It does not matter whether you have a french door office or sliding door, our locksmiths can cope with any of them.
Summing Up
---
Summarizing, the bottom line is that the most reliable and quickest way to reenter your workplace is to call a commercial locksmith. You may use our other tips first, but, unfortunately, they don't guarantee you'll get into the office. If you find yourself locked out, having a local locksmith you trust will help you to quickly gain access and get back to work. Sure Lock & Key is near, and hence quick at successfully resolving all your emergencies, like unfortunate office lockouts.