How to keep money safe in a hotel room
---
How often do you travel? In 2019, US citizens took 2.29 billion domestic trips and 93 million international outbound trips. It is impressive that we are living in an open world and have the opportunity to see different cultures. However, even the most magnificent trip might be spoiled by not adhering to basic routine rules. So, where to put money so they will be safe? It may be stressful to leave money in a hotel room. Carrying the trip budget with you wherever you go is even more nerve racking. So, what can you do? If you want to know how to keep your money safe in a hotel room, read our blog. Sure Lock & Key is always ready to give you free advice when it comes to your security!
Is it safe to use hotel room safes
---
If you look at the other opportunities to hide money and other valuables, you will see that a hotel room safe is the best place to hide documents, money, etc. The cleaning manager will change your bedding regularly, so making a pillow or blanket your hiding place is a bad idea. Also, better not to leave anything important in your backpack or suitcase, because it is easy to find. Cabinets and drawers are easily accessible as well.
Now you may see that, after all, the best place is a hotel safe. However, there are usually more questions and unfounded suspicions than answers when it comes to hotel safes. How to unlock a hotel safe? After checking in, you'll have a right to use your safe. They could be of different types – with a code or card pass or a regular lock with a key. It may be a built-in hotel safe, or it may be hidden in the wardrobe closet. The hotel staff has to give you a key or help you create a new code. Only then are your assets protected.
Can hotel staff open a safe
---
If it was your personal safe, you would be able to use a
safe locksmith
to avoid the possibility of other people unlocking it. However, with a hotel safe, we don't have such authority. When you leave your valuables in a hotel room safe, you must understand that the technical staff has unique codes to open the safe. It will be helpful if you forget a code or lose a key somewhere. However, if workers are dishonest, there's always a tiny chance they might use it to their benefit. It will be hard to prove who stole from the safe during your stay. If you have expensive valuables – better ask a receptionist about the hotel safe box. Probably, hotels have fixed prices on it, but this service has an option to write all stuff on the list and sign it.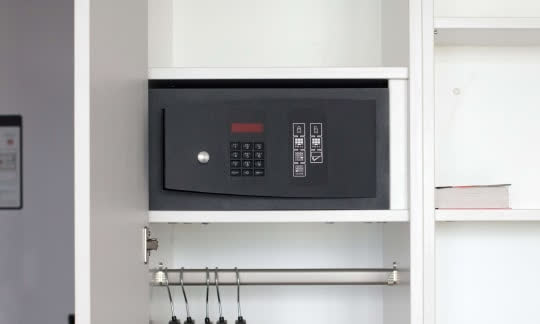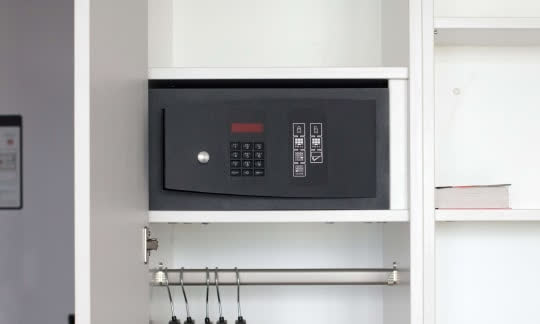 How can I protect my hotel safe
---
The first security rule is not telling anybody your code or password. Also, never use simple codes. Employees know many people set smart box hotel safe codes like 1234 or 0000. Try to make it harder – date of birth or even random numbers.
One unique way to secure your valuables inside your hotel room safe is with a device called the Milockie Hotel Safe Lock. It is a special lock device that allows you to secure the safe with your padlock, preventing anyone else from gaining access to your safe. The Milockie Lock fits most hotel safes. A real smart idea.
Also, you might use portable travel safe and take it with you to lock up your valuables. It was designed to fit flat into your travel bag, made with a cut-proof material, and locks closed with a steel cable. It is a handy item for the office, a vehicle, or a dorm.
Where should you keep your valuables when staying at a hotel
---
During your stay, it is always better to use a safe in a hotel. Of course, it is not a 100% guarantee but still probably the most secure.
If you stay in hostels, use a personal locker. However, it is not a good idea if you have a considerable amount of cash. So, better use cards and use lockers only for personal stuff. There is always someone in the room, so hopefully people will notice suspicious people near someone else's things and prevent anything wrong from happening.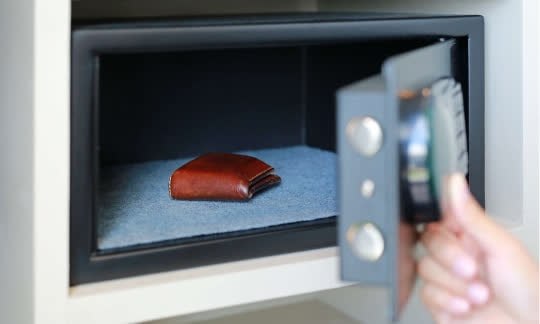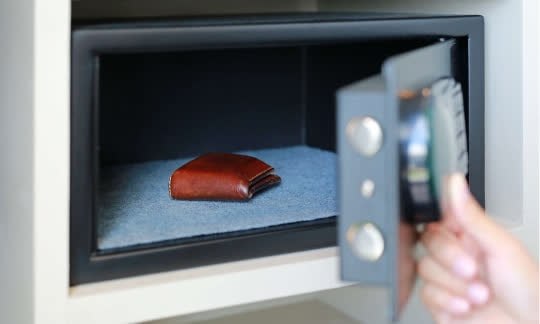 Need more information?
Call us to get a free quote
Summary
---
Going to stay in a hotel room, you never know what safe awaits you there. Will it be secure? Will your money be protected? If you have a safe at home, you may know
why a safe is a great investment
and the best place to store your valuables. With a clear understanding of what to expect and how to achieve the maximum of the hotel's safe security, you may be calm about what awaits you.