Toyota Car Key Replacement
---
If you need a new key for your Toyota, you are in the right place. We in Sure Lock & Key can provide you with a new one whenever you need it. To be as helpful as possible, Sure Lock & Key techs have appropriate equipment and knowledge to provide you with the perfect new key for your beloved vehicle.
As soon as some key issue appears, car owners decide to call their car dealer. But that's only one of the possible solutions. A locksmith company can help you even faster and charge you a lower price for the car key replacement. Whether you need a Toyota key fob or a Toyota key duplicate, a locksmith is your fastest solution, especially Sure Lock & Key. Helping our customers to get a new car key for more than 35 years, we can successfully deal with any car lock issue. Since the list of the models and years of Toyota we serve is pretty long, including Camry, Prius, RAV4, etc, we recommend you to call us to save time searching for the needed one. Our live operators can easily answer all your questions about possible services, and tell you about different options for your Toyota model and year.
Toyota Key Replacement Services
---
The list of car key replacement services is longer when you probably have expected. Whether your key is broken, simply worn-out or bent, we know how to help. But modern and technologically advanced keys issues need modern and technically advanced solutions. A key fob can stop work properly because of moisture or because it was exposed to too many electronic impulses. That's why Sure Lock & Key can provide you not only with the common car key cutting or
car key duplication
but also with the more difficult services, such as Toyota key fob replacement and its further programming, making a new key from scratch, etc. To find out how to get a car key replacement, call us now, and our live operator will provide you with all the possible solutions for your case.
Emergency Services
---
Accidents happen all the time. Even though modern car keys are advanced devices, you can never be 100% sure that no accident will happen to you. That is why emergency services are so important for Sure Lock & Key. Aiming to be of use all the time, we're available for your call at any hour. Using us, you can be sure that no key issue will cause you lots of inconveniences. So, if you're looking for an emergency Toyota key replacement, you know whom you should call.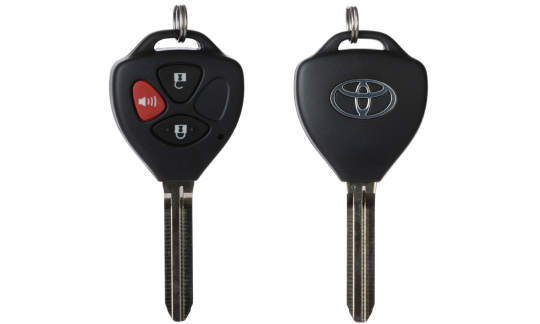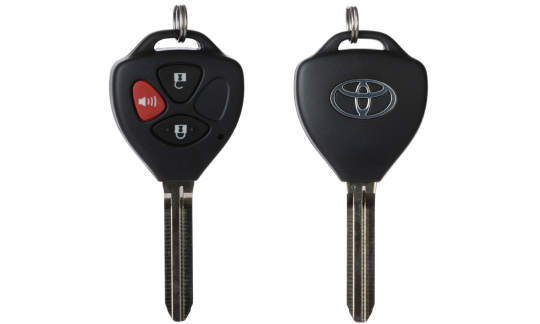 How To Get A Car Key Replacement
---
Please be prepared to provide Sure Lock & Key, car key replacement service assistants, with the following information:
Make, model, and year of your car
Your exact location (street address and zip code)
VIN number of your car
Type of the key you need (transponder key or key fob)
Please be ready to provide proof of car ownership